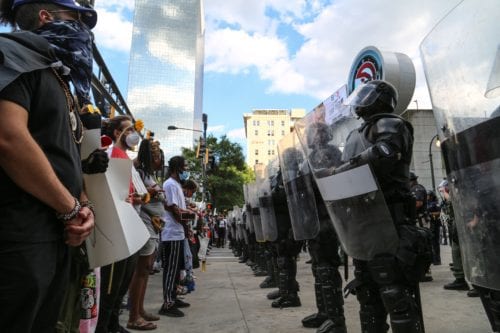 Scenes from Atlanta's protest in murder of George Floyd
The murder of George Floyd, the unarmed black man, who was killed by police in Minneapolis, Minnesota sparked protests, a number of them violent, across the U.S.
Photographer Joshua Smith captured these scenes in downtown Atlanta on Sunday, May 31, around 6:30 p.m.  Protestors and authorities face off during a peaceful demonstration. A convoy of the National Guard rolled through the streets. Police, dressed in riot gear, were ready to enforce the 9 p.m. curfew set for demonstrators to be off the streets. Just two days earlier, protestors had clashed with the police and vandalized property. While many volunteers returned to clean up much of the mess, some signs of the unrest were still visible on Sunday, May 31: The Omni Hotel's atrium had shattered glass. Graffiti remained on a boarded up Ruth's Chris steakhouse.