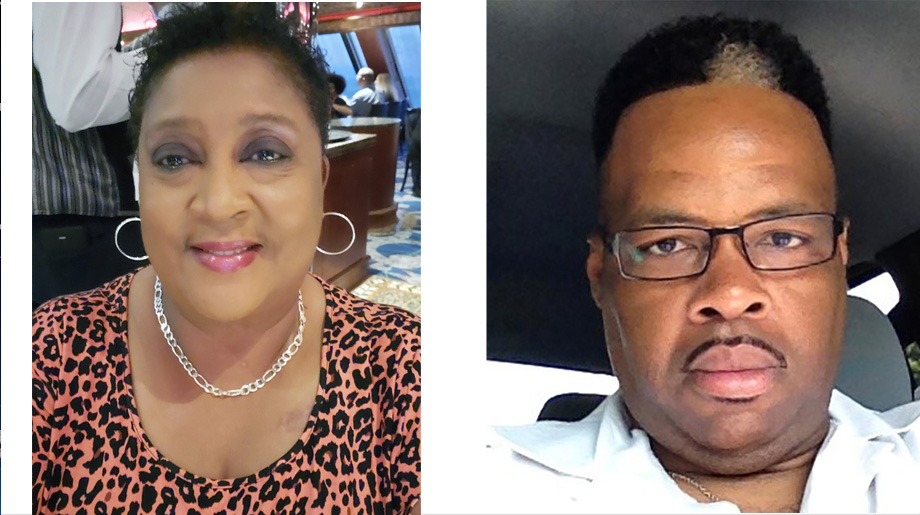 Photos L-R: Rockdale resident Paula Moreland and Newton County Deputy Sheriff Andre Cooper 
Congressman Hank Johnson (GA-04) is inviting one constituent from Rockdale County and one from Newton County as his virtual guests to President Biden's Joint Address to Congress on tonight(April 28) at 9.
Paula Moreland, a disabled Rockdale County resident who worked part time for her church and is a COVID-19 survivor, received the $1,400 Economic Impact Direct Payment under President Biden's American Rescue Plan. With the money, she was able to pay for some much-needed home repairs and purchase medication she desperately needed.
The American Rescue Plan's Economic Impact Direct Payment allowed Newton County Deputy Sheriff Andre Cooper to catch up on living expenses and the vaccination program allowed him, his wife and his parents to get vaccinated. It also enabled them to have face-to-face visits with his father, who lives with Parkinson's, and allowed his parents to have the comfort of in-person visits with their grandkids, who they had not seen in person in more than a year.
The Joint Address, which is President Biden's first speech to a Joint Session of Congress, marks 100 days into the President's first term. In the past, members of Congress have often invited constituents to join them as guests to such speeches. While COVID-19 safety protocols mean this year's in-person attendance will be limited, Congressman Johnson said inviting his virtual guests is an important way to honor the people of District and lift of their stories and voices.
"100 Days into our work with this Administration, the American Rescue Plan is delivering shots in arms, money in pockets, children in schools and people in jobs. Americans like Paula and Andre are the true heroes of this recovery, and I am proud to uplift them as my virtual guests to the Presidential Address," said Rep. Johnson.
"I am extremely thankful for the opportunity to be a guest of the Congressman," said Moreland. "To me, agreeing to be his guest is a statement indicating that I am a citizen that fully supports an objective politician who has worked hard and sought equal rights and fair treatment for all races. I am not seeking a spotlight for myself, however this is a tremendous honor to be the guest of my congressman, The Hank Johnson."
Johnson's office outlined the following information in a news release issued today(April 28):
THE AMERICAN RESCUE PLAN: HELP IS HERE 
100 Days into Congress's work with President Biden, the American Rescue Plan is delivering shots in arms, money in pockets, children in schools and people in jobs.
SHOTS IN ARMS
The United States has administered more than 215 million vaccine doses and counting. More than 85 million Americans are fully vaccinated. Half of the adults in the U.S. have received at least one dose. [HERE] More than 6 million vaccine doses have been administered in Georgia.
The American Rescue Plan also recently sent $6 billion to local Community Health Centers to help them distribute vaccines. More than $143,295,250 has gone to support 35 health centers throughout Georgia.

MONEY IN POCKETS
About 159 million stimulus payments have made their way into the hands of hardworking Americans with most eligible families receiving $1,400 per family member.[HERE]
Over 18 million Americans are able to pay their bills due to unemployment benefits that were extended, including the extra $300 per week. More than 1 million Georgians have benefitted from these funds.

CHILDREN IN SCHOOLS
The American Rescue Plan invested $130 billion to help schools reopen safely, stay open safely and make up for lost learning time. DeKalb County schools are receiving $337 million, Gwinnett County Schools $279 million, Newton County Schools $47 million and Rockdale County Schools $36 million.
The American Rescue Plan also recently sent $39 billion to states to help keep childcare providers on the job and lower costs for working families. $1.5 billion is coming to Georgia.
PEOPLE IN JOBS
The economy created nearly 1 million jobs in March. In fact, "Job growth boomed in March at the fastest pace since last summer, as stronger economic growth and an aggressive vaccination effort contributed to a surge in hospitality and construction jobs," according toCNBC.