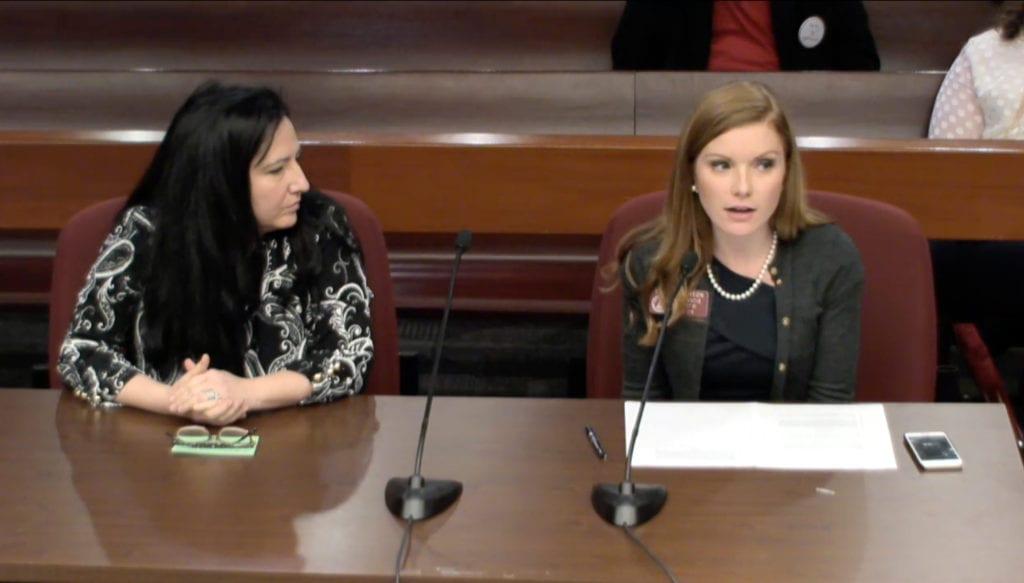 By Travis Hudgons
Republican lawmakers have fast-tracked a bill to eliminate DeKalb County's CEO position. The bill, co-sponsored by Rep. Meagan Hanson (R – Brookhaven, District 80) and Rep. Tom Taylor (R – Dunwoody, District 79), would abolish the county-wide elected position of chief executive officer.
If HB961 is passed, the CEO position would end at the expiration of Michael Thurmond's four-year term in 2020.
The bill has angered some members of the DeKalb Delegation.
"HB 961 passed committee to eliminate the DeKalb CEO position without so much as a notification to other members of the delegation. Unacceptable and unprofessional!," State Rep. Dar'shun Kendrick, a Lithonia Democrat who represents District 93) said in a Facebook post.   "Whether you agree or not, we have a PROCESS that doesn't seem to be followed if you are of a certain party down here. Call Rep. Megan Hanson and Rep. Tom Taylor and tell them NO! Find their information at www.legis.ga.gov."
On Feb. 21, Hanson skirted traditional routes and fast-tracked the introduction of HB961 as a general bill to the Governmental Affairs Committee. Under the bill, the CEO's duties and responsibilities would be transferred to the chairperson of the DeKalb County Board of Commissioners.
"It only eliminates that one position. It doesn't change the other structure of the county commission," Hanson told Committee members.
Hanson said DeKalb is the only county of Georgia's 159 counties with a CEO form government. She said she pushed for the change because a number of her constituents have complained about issues such as DeKalb's water billing crisis, which Hanson and Jester attribute to poor leadership from the office of the CEO.
"This is not personal. This is not about who's there now. It's looking forward and making sure our county is set up for the best government structure to be successful," Hanson said during the Feb. 21 Governmental Affairs Committee meeting.
DeKalb District 1 Commissioner Nancy Jester, a Republican, accompanied Hanson while she presented the bill. Jester echoed Hanson's position.
"I believe that there is a direct connection to the competency issues and the form of government we have," Jester said during the livestream meeting.
Jester cited the recent water bill woes and numerous sewer spills due to  "operational issues" caused by the "politicization of the governance of the county…We have an elected person who is in charge of operations—which is a very technical job."
Jester said the CEO form of government leads to inconsistencies because every time a new CEO is elected, they bring in new people and have to re-establish government departments.
"There's a constant churn of people, so there's no consistency of people in government," she told the Committee.
DeKalb CEO Michael Thurmond has not publicly commented on the bill. However, he has acknowledged at public forums that the county has experienced decades of mismanagement in its Department of Watershed Management. The problems were there when he took the reigns as CEO in January 2017.
Thurmond recently touted his accomplishments at the state capitol. Andrew Cauthen, a county spokesman, said those accomplishments included progress the county has made in addressing sewer spills in the county and fixing the water billing crisis, which has plagued residents with high water bills due to inaccuracies, aging equipment and a lack of oversight.
Members of the Governmental Affairs Committee discussed the implications and intentions of the bill for approximately 30 minutes before the vote. Committee Chair Ed Rynder, R-Albany, asked lawmakers of the 21-member committee to review the bill and make a decision that day because of Crossover Day (Feb. 28), which is the last day for a bill to pass out of the chamber.
State Rep. Mary Margaret Oliver, D-Decatur, voiced her apprehensions, saying the bill should be tabled.
"I object to this process," Oliver stated.
Oliver noted the bill was only introduced the day before and had not gone to sub-committee. She said the bill would affect more than 800,000 DeKalb County residents.
Hanson said she discussed the bill with Commissioner Jester and DeKalb delegation members Scott Holcomb (D – Atlanta, District 81) and Rep. Taylor. She said she also received input from constituents via a "Facebook group."
Hanson said because it was a general bill, she did not have to bring it to the entire delegation.
Rep. Bee Nguyen (D – Atlanta, District 89) and Rep. Howard Mosby (D – Atlanta, District 83) voiced concern that no other county commissioners were consulted.
"No consultation with any members of the county bothers me," Mosby said.
"If we're concerned about DeKalb County being in the news—this puts it squarely in the news."
Mosby said DeKalb is being unfairly targeted and doesn't think DeKalb's CEO form of government is a statewide issue.
Rep. Renitta Shannon (D – Decatur, District 84) said she did not see the correlation of the sewer spills to the position of the CEO and questioned Jester as to the "specific missteps that you feel the CEOs have done."
Rep. Buzz Brockway (R-Lawrenceville, District 102) stated that he "didn't have a dog in the fight" but was concerned about the speed at which the bill was being presented.
"This is a huge change. Would it be better to study this?" Brockway said. "We are being asked…very quickly to decide to removed a very prominent and powerful politician."
To view the entire meeting, visit https://livestream.com/accounts/19771755/events/7993559/videos/170532589
and go to the 1:26:00 mark