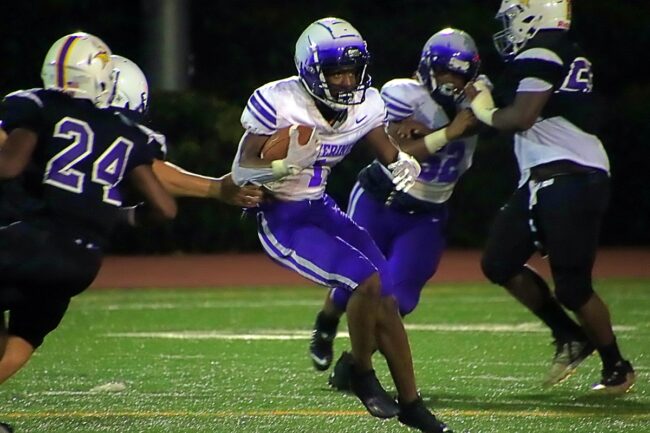 Jayden Brown scored all four touchdowns to lead the Miller Grove Wolverines to a 27-20 Region 6-4A over the Mays Raiders at Avondale Stadium on Friday night.
The Wolverines (6-1, 3-1) trailed 8-0 at the half and rebounded as Brown finished with 277 yards rushing and three touchdowns on the ground and added two receptions for 55 yards and a touchdown as he blew through the Raiders' defense.
Jean Cherelus had the big play on defense with the Raiders threatening on the Miller Grove five on fourth and goal. Cherelus broke through for a big sack on fourth down to seal the win over the Wolverines who move into a second place tie in the region standings with Mays (3-5, 3-1).
Miller Grove has the opportunity to get a home playoff game with two games left against Marist and Hapeville Charter.
Dunwoody 42, Berkmar 14 
The Dunwoody Wildcats offensive line paved the way for another big offensive display of over 400 yards for the second consecutive week in a 42-14 Region 7-7A victory over Berkmar on homecoming at North DeKalb Stadium.
Center Reeves Tallent, guards Carrington Tate and Presley Wills and tackles Conrad Smith and Raza Zaidi opened big holes for the Wildcat ((2-6, 1-4) option running game to the tune of 315 yards and 92 yards through the air. The Wildcats rushed for 350 yards and passed for 116 a week ago.
Cal Wichman led the way with 195 yards and one touchdown on 30 carries and added two touchdowns on 37 yards receiving. Wichman had 209 yards on the ground a week ago. Quarterback Porter LeDoyen ran for 96 yards and two touchdowns and threw for 92 and two more scores.
The Wildcat defense shut down Berkmar's offense holding it to just 26 yards on the ground on 18 carries and just six first downs. Berkmar had two big pass plays on scrambles, but the Wildcats also had interceptions by Clay Cranmer, Jay Norris-Neal and James White.
Cedar Grove 42, Westminster 10 
The Cedar Grove Saints reeled of 35 consecutive points after falling behind 3-0 to the Westminster Wildcats on the way to a 42-10 Region 5-3A victory at Westminster last Friday night.
Ranked No. 1 in Class 3A, the Saints (6-2, 5-0) got on the board on a 15-yard scoring pass from E.J. Colson to Barry Jackson. Five more Saints would score in the game including touchdown runs by Boden Walker and Rashod Dubinion.
Jamar Graham added touchdown passes of 26 yards to Janiran Bonner and 80 yards to Trevon Ferrell as the Saints pulled away. Cameron Jackson added a fumble return for a touchdown on the defensive side of the football.
The win moved the Saints into first place in the 5-3A standings as Sandy Creek dropped a tough game to Carver of Atlanta on Friday.
Chamblee 42, Maynard Jacks 14 
Two big plays gave the Chamblee Bulldogs a 21-0 lead and the momentum at the half on the way to a 42-14 win over Maynard Jackson on Saturday night at Henderson Stadium in Atlanta.
Leading just 7-0 and Jackson driving in Bulldog territory Jacari Waller-Watkins made a big defensive play with a tackle for a loss on fourth down to stop Jackson. Jameel Avery came up big later in the first half as he blew by the defense on the way to a 60-yard touchdown run that put the Bulldogs up 21-0.
Waller-Watkins finished with 10 tackles in the game and Sydyk Ross added 11 tackles, four for a loss, and forced a fumble. First year defensive back Connor Pressnall had three interceptions including a 61-yard touchdown return.
Fabian Walker moved into fourth place on the DeKalb list for most touchdown passes in a season with 29 as he threw for 215 yards and four touchdowns on 14 of 23 passing.
DCSD FOOTBALL – WEEK 10 RESULTS
Thursday, Oct. 21
ADAMS STADIUM
Tucker* (2-6) 55, Morrow (1-7) 0
Friday, Oct. 22
ADAMS STADIUM
Notre Dame (2-5) 28, Cross Keys (0-6) 6
Washington (4-3) 24, Lakeside (2-6) 0
AVONDALE STADIUM
Miller Grove* (6-1) 27, Mays (3-5) 20
Lithonia* (2-6) 14, Stone Mountain (4-5) 7
"BUCK" GODFEY STADIUM
Hapeville Charter (3-5) 30, Arabia Mountain* (3-6) 6
HALLFORD STADIUM
Marist (6-1) 64, Stephenson* (5-3) 12
NORTH DEKALB STADIUM
Dunwoody* (2-6) 42, Berkmar (0-8) 14
AWAY GAMES
Cedar Grove (6-2) 42, Westminster (3-5) 10
Lovett* (6-3) 16, Columbia (7-2) 0
St. Pius X* (6-2) 46, M.L. King (1-7) 13
Douglass (1-7) 28, Redan (2-6) 20
Pace Academy* (4-4) 31, Towers (2-6) 16
Saturday, Oct. 23
AWAY GAMES
South Atlanta* (7-1) 62, McNair (0-7) 6
Chamblee (7-1) 42, Maynard Jackson (2-6) 14
Open: Clarkston (2-2), Druid Hills (0-9), SW DeKalb (4-4)
*–Region Game
(HC)—Homecoming
(SN)—Senior Night
Mark Brock is the Athletics Specialist for DeKalb County Public Schools (DCSD).