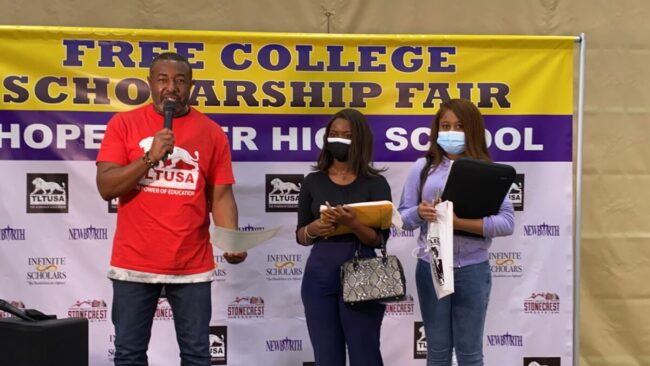 STONECREST, GA—School buses arrived today at the Family Life Center at New Birth Missionary Baptist Church with high school students eager to attend the 6th Annual Free College Scholarship Fair, co-sponsored by The Leadership Team USA and Infinite Scholars. The event, touted as Georgia's largest scholarship event of its kind, offered students the opportunity to tap into millions in scholarships and provided them with access to more than 50 college representatives.
Several  students received full scholarships today and more are expected to receive scholarships over the course of the four-day event, which ends on Thursday, Aug. 28. The event, which features some of the largest private and public universities to small, liberal-arts colleges, is free and open to all area high school students. Representatives from colleges and universities will be onsite to speak with students and parents about admission requirements and offer immediate scholarship opportunities to qualified student participants.
Organizers have set a goal of awarding $40 million in scholarships for this year's event.
Dates:                           Oct. 25 – 28, 2021
Times:                          9 a.m. – 2 p.m. (daily)
Location:                      New Birth Missionary Baptist Church (Family Life Center), 6400 Woodrow Rd., Stonecrest
WHAT SHOULD STUDENTS BRING?
Students should come prepared with multiple copies of their unofficial high school transcript, test scores (ACT/SAT), two letters of recommendation, one-page resume, and a one-page essay focused on the student's desire to attend college.
EVENT COVID PROTOCOLS
New Birth requires that everyone entering the facility be fully vaccinated or have a negative COVID-19 test 72 hours prior to entering the event, wear a mask over nose and mouth and practice social distancing.
HOW TO REGISTER: 
Register TODAY at www.infinitescholar.org