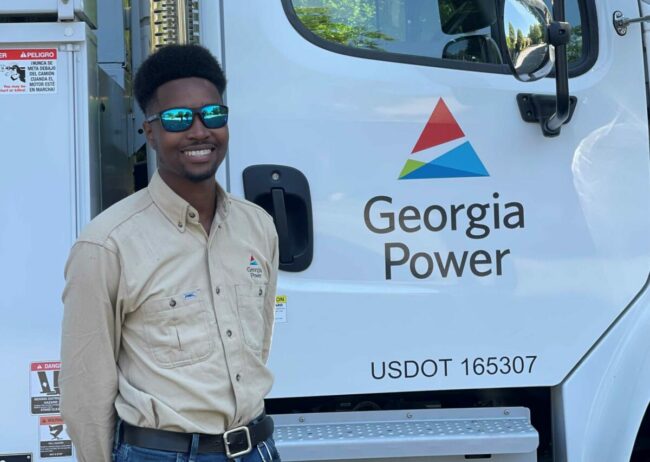 Growing up in Jackson, Georgia, just south of Atlanta, Ortez Battle didn't plan to become a lineman when he grew up. At Henry County High School, he excelled in track and cross country and had a passion for computer science and technology.
Battle turned down sports scholarships to pursue a career in the military after graduating, packed his bags and headed to California to work in the legal field for the U.S. Marine Corps.
Battle's four years spent in the military were tough, but those skills have translated well into a position at Georgia Power as a lineman working out of the Tucker operating headquarters in DeKalb County.
"During my time in the Marines, I had to learn to work quickly under pressure and high stress, and the importance of listening carefully," he said. "Those skills have translated into my current role as a lineman."
They were especially useful when he was called to work in South Georgia and the panhandle of Florida following Hurricane Michael in 2018. Battle had only been with the company as an apprentice lineman for two months when he was called to help out.
"It was a great learning experience for me. We were truly building lines from scratch," Battle said. "Everybody worked together on a common mission."
In his day-day-to-day work, Battle works and learns from his fellow crew members to build lines for new business, such as grocery stores, in the metro area.
"I came in here with zero linework experience and Georgia Power has truly invested in me. That's not something that every company offers, and I have the opportunity to learn something new every day," Battle said.
During the month of April, Georgia Power and other electric utilities in Georgia are celebrating and thanking utility workers across the state. The daily work done by line workers in Georgia's communities is always recognized, but their work has been especially pronounced over the past year, as many families continue to work and learn at home due to the COVID-19 pandemic.
Utility crews and personnel respond to outages and essential work in all conditions and following severe weather, including the recent spring thunderstorms and tornadoes across the state.
Throughout Georgia Power's 2021 Thank a Lineman initiative, saying "thank you" is quick and easy by signing the digital card at www.GeorgiaPower.com/ThankALineman.
Additionally, Georgians can celebrate and engage through social media by using and following #ThankALineman and visiting Georgia Power's Facebook (www.Facebook.com/GeorgiaPower), Twitter (@GeorgiaPower) and Instagram (@ga_power) pages.