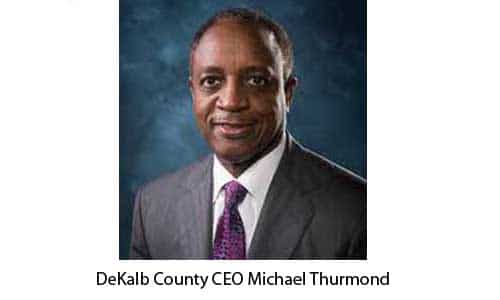 Free backpacks will be provided at the July 31 event
 DECATUR, GA—DeKalb County residents will have another chance to get the COVID vaccination—and receive a $50 pre-paid debit card for doing so. DeKalb CEO Michael Thurmond is offering the incentives for the second time this month on Saturday, July 31,   8 a.m. to 1 p.m.,  during a drive-through event at the Gallery at South DeKalb mall, 2891 Candler Road, Decatur.
"We are focused on helping DeKalb residents to get vaccinated as soon as possible," DeKalb County CEO Michael Thurmond said.
DeKalb County vaccinated 185 people against the deadly COVID-19 virus and gave each a $50 prepaid debit card during its monthly food distribution on July 24 at three locations. That was a 48 percent increase over the previous vaccination event where the debit cards were not passed out as incentives for receiving the COVID-19 vaccination, officials said.
In June, 125 people received COVID-19 vaccinations at a county food distribution event, which was held at four locations.
At this Saturday's event, DeKalb County Board of Health and DeKalb County Fire Rescue will administer voluntary COVID-19 vaccinations to residents 12 years of age and older. Residents will be able to remain in their vehicles when receiving vaccinations.
MedCura Health also will offer free COVID-19 tests and provide backpacks to students.
As of July 28, in DeKalb County, 334,557 residents, or 45 percent, are fully vaccinated, according to the Georgia Department of Public Health.
In DeKalb County, 35.3 percent of African Americans have received at least one dose, while 53.1 percent of Whites and 68.3 percent of Asians have received at least one dose. Approximately 36 percent of Hispanics have received at least one dose.
"With the continued dramatic rise in the number of cases and hospitalizations associated with the COVID-19 Delta variant, time is of the essence," said DeKalb District Health Director Sandra J. Valenciano, M.D., M.P.H. "Our community must rally together now to stop COVID-19 and that begins with getting vaccinated, in order to protect everyone, especially our most vulnerable residents and our young children who are not yet eligible for the vaccine."