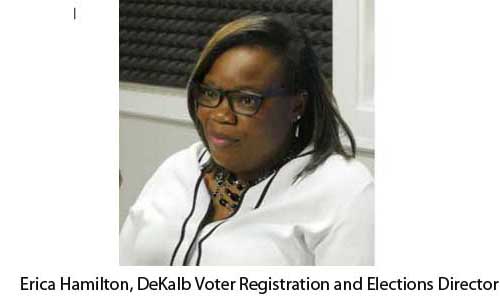 DEKALB COUNTY, GA–Embattled DeKalb County Elections Director Erica Hamilton will be on extended leave of absence effective Sept. 9 and new leadership will take the helm to oversee the upcoming Nov. 2 General Elections, officials said in a statement today (Sept. 8).
The announcement of Hamilton's leave comes as the county prepares for advance voting for the General Election.
Hamilton, and Sam Tillman, former Board Chairman of the DeKalb County Board of Elections, came under fire following the June 2020 primary concerning a number of issues including long lines, insufficient equipment and their failure to follow through on measures adopted by the board. DeKalb  County Democratic Committeey Chair John Jackson, DeKalb officials, political observers and even board members themselves called for them to step down. DeKalb County elections officials took more than a week to count all of its absentee ballots during the June primary, becoming one of the last counties to certify its results. Hamilton and Tillman defended their actions, saying the problems stemmed from unforeseen circumstances created by the global pandemic.
Tillman was not reappointed to serve as chair of the board. Dele Lowman Smith was elected by her peers on July 8, 2021 to succeed Tillman.
The DeKalb County Board of Registration and Elections issued the following statement regarding changes in leadership:
"Effective September 9, 2021, Erica Hamilton is on an extended leave of absence from her role as director of DeKalb Voter Registration and Elections.
As the department continues its preparations for this upcoming election, Registration Supervisor Twyla Hart steps into the role of Acting Director. Ms. Hart's nearly 20 years with DeKalb Voter Registration and Elections will ensure continuity for DeKalb County voters, partners, and stakeholders.
Over the next several weeks, we will step up our collaborative efforts to ensure every voter knows how, when, and where to vote as we prepare for a seamless election on November," Elections Board Chair Dele Lowman Smith and Vice Chair Nancy Jester said in a statement.
For more information on DeKalb County Voter Registration and Elections,
visit www.dekalbvotes.com or call 404-298-4020.