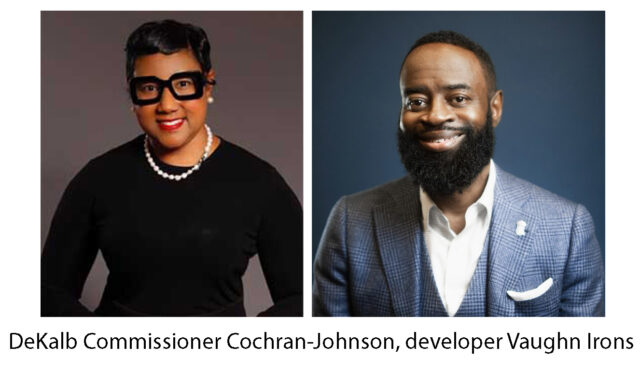 Participants will receive free admission to SeaQuest, $100 gift card  
STONECREST, GA–DeKalb County District 7 Commissioner Lorraine Cochran-Johnson and Stonecrest Resorts principal and developer Vaughn Irons are sponsoring their second free COVID-19 vaccination event to include great incentives for DeKalb County residents.

The COVID-19 vaccination event will take place on Saturday, Jan. 29, 11 a.m. to 2 p.m., at SeaQuest Interactive Aquarium at the Mall at Stonecrest, 8020 Mall Pkwy., Suite #1000, Stonecrest, Ga. 30038.

Individuals who receive a COVID-19 vaccine will get free, same-day admission to SeaQuest at Stonecrest, as well as a $100 gift card. Children will also receive free, same-day admission with a vaccinated adult.

"I have made it a priority to not only give the residents of DeKalb County the most up-to-date information on COVID-19, but to support and sponsor local efforts to increase vaccination rates," said Commissioner Cochran-Johnson. "Now that we have the ability to vaccinate youth, I am proud to support a family-focused event to vaccinate children and parents. As we enter flu season, it is a critical time in our fight against COVID. I'm happy to present an event that rewards those who are vaccinated with a wholesome experience and provides joy and financial assistance through our $100 gift card incentive."

According to recent numbers reported by the DeKalb County Board of Health, as of Jan. 18, approximately 56.4 percent of DeKalb County's residents are fully vaccinated, with approximately 1.1 million doses of the COVID-19 vaccine having been administered.

Individuals will have the choice of receiving the Pfizer, Moderna or Johnson & Johnson vaccines administered by the DeKalb County Board of Health. Flu vaccinations and booster doses of the COVID-19 vaccine will also be available.

All Georgians ages 5 years and older can get a COVID-19 vaccine, with the stipulation that a parent or legal guardian must be present with the child (currently, Pfizer is the only COVID-19 vaccine recommended for children ages 5-17).

Individuals are required to bring a photo ID and health insurance information, if available. Those who have received a COVID-19 vaccination in the past (second dose, booster dose), are asked to bring their vaccine cards to expedite the verification process.

"Our county government is making great strides in increasing vaccination numbers," said Vaughn Irons, principal at Stonecrest Resorts LLC. "I am excited to be partnering with Commissioner Cochran-Johnson to further those efforts, ensuring our residents are healthy and able to enjoy the local entertainment and tourism DeKalb County has to offer."

SeaQuest Interactive Aquarium opened in November 2021 in the Stonecrest community and offers the ultimate land and sea adventure with over 1,200 animals and 300 different species from five continents around the globe.