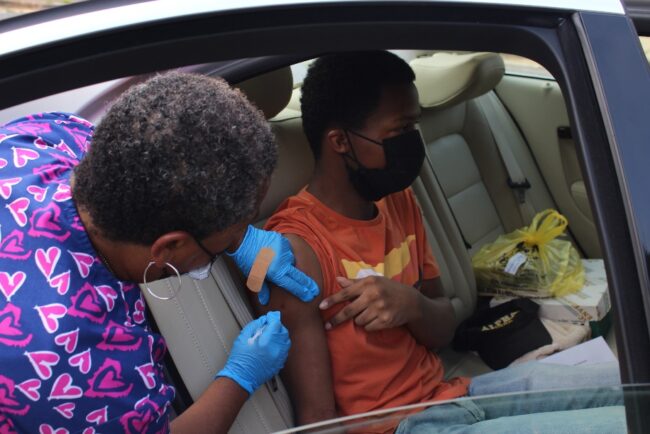 Incentive increased vaccinations by 48 percent over previous event
DeKalb County vaccinated 185 people against the deadly COVID-19 virus and gave each a $50 prepaid debit card during its monthly food distribution July 24 at three locations. That was a 48 percent increase over the previous vaccination event where the debit cards were not passed out as incentives for receiving the COVID-19 vaccination.
DeKalb County recently used $50 prepaid debit cards to incentive people receiving COVID-19 vaccinations.In June, 125 people received COVID-19 vaccinations at a county food distribution event at four locations.
"The $50 prepaid debit cards are a smart investment that will save lives, reduce the spread of COVID-19 and protect our medical personnel and first responders," said DeKalb County CEO Michael Thurmond.
On July 24, DeKalb County Board of Health medical professionals and DeKalb Fire Rescue paramedics and EMTs administered the voluntary COVID-19 vaccinations to residents 12 years of age and older at three locations.
DeKalb County is working to increase the countywide vaccination rate.
As of July 20 in DeKalb County, 34.6 percent of African-Americans have received at least one dose, while 52.8 percent of Whites and 67.8 percent of Asians have received at least one dose. Approximately 35 percent of Hispanics have received at least one dose.