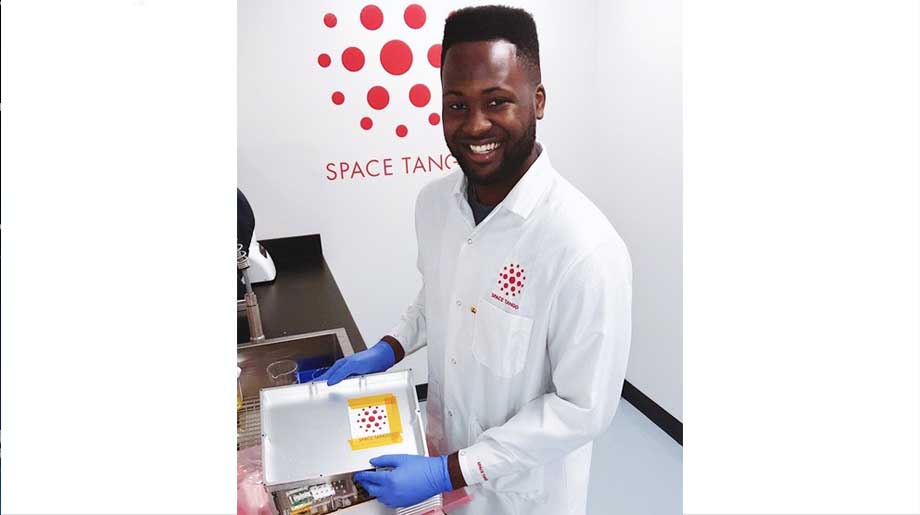 DAYTONA BEACH, FL—The International Space Station (ISS) is home to a variety of research projects meant to improve the quality of life back on Earth, but because of limited space aboard the facility, some projects — namely, devices meant to grow cells for testing in microgravity — lack the proper equipment.
That's the problem Mechanical Engineering senior Malik Moville aimed to solve with a recent undergraduate research project, which took home the first-place team prize at Embry-Riddle Aeronautical University'sDiscovery Day.
"The International Space Station provides a platform to observe the impact microgravity or the lack thereof can have on traditional terrestrial investigations," said Moville, a Conyers, Georgia native. "Low-earth orbit, however — which is approximately 200 kilometers above the Earth's surface — provides an opportunity for researchers of all backgrounds to remove gravity from the equation and discover solutions that cannot exist on Earth."
Hosted by the Office of Undergraduate Research, Discovery Day was held virtually this year for Daytona Beach Campus students, who submitted video presentations outlining their innovations and processes. For Moville, who has a biomedical systems degree focus, researching cell viability seemed like a natural extension of his coursework.
"I've been fortunate enough to use this research as my senior design project," Moville said, adding that his rewards for the work extend well beyond the recognition at Discovery Day. "I've also created connections at the Muotri Lab at the University of California, San Diego, and I can actually say I've sent up multiple bio-driven designs to space."
The key tool in maintaining healthy cell growth is called a shaker table, which is too large to house on the ISS. Moville's suggested replacement is an automated agitation system, which, outfitted with rollers to keep cells from clumping in enclosed spaces — clumping destroys cells' abilities to grow independently, resulting in failed investigations — the system will emulate the effect of a shaker table but be small enough to fit within a CubeLab provided by Space Tango, a firm that specializes in manufacturing health/technology products in space.
"The most challenging part was figuring out the appropriate geometry for the agitation system — but I loved every second of it," Moville said. "With this system, it makes it possible for an innovative opportunity to explore cell-based procedures."
For Victor Huayamave, assistant professor of Mechanical Engineering and Moville's faculty advisor, the project was doubly beneficial, since it allowed Moville to earn course credit while meeting the requirements of his internship.
"The outcome of the project is one that sets the stage for future space experiments," Huayamave said. "Malik's effort and discipline are instrumental for the completion of his project, and I am sure he will do great in the space industry."
After graduation, Moville will go to work for Space Tango. He is also considering pursuing a master's degree.
"Considering all the challenges faced by students this past year, it's an accomplishment that we were able to host over 70 student projects representing the creative activity of 150 students at this year's Discovery Day," said Wes Lewis, director of the Office of Undergraduate Research. "Additionally, the virtual format took away the usual physical limitations, allowing visitors from 49 countries to attend the research symposium, which was hub to over 3,000 downloads."
Moville's video presentation, poster and research paper, titled "Agitators: Automated Agitation System for Cell Viability in Microgravity," can be viewed in full on the Discovery Day website.