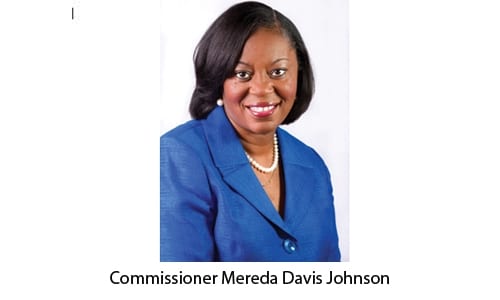 Roots Down will install edible, native landscapes at five libraries
DeKalb County District 5 Commissioner Mereda Davis Johnson is launching edible landscapes at five libraries in her district as part of a wider Fruitful Communities initiative led by Roots Down.
Residents are invited to attend the groundbreaking ceremony at the Stonecrest Library, 3123 Klondike Road, on Earth Day, April 22, 2 p.m., to learn more about the initiative and explore the initial design concepts for the installation.
The Fruitful Communities initiative focuses on addressing food insecurity, creating green jobs, combating climate change by installing Productive Urban Landscapes. Thee landscapes are filled with edible and native plants that are environmentally friendly and grow food for nearby residents. Productive Urban Landscapes include fruit trees, perennial herbs and flowers, as well as native species that are as beautiful as they are beneficial. Productive Urban Landscapes are a significant improvement from landscapes that are mowed and sprayed with synthetic chemicals — such as herbicides or other harmful chemicals — and offer nothing back to the community despite the expensive cost to maintain them.
"We are excited to build safe, outdoor spaces that give back to the community, right here in the 5th District," said Davis Johnson. "There could be no better space than our libraries to begin this project because they reach a cross section of our residents. These landscapes will offer an opportunity for hands- on learning that can be expanded upon with all of the knowledge and resources right here in our libraries."
Roots Down will begin removing invasive species and displaying designs at the Stonecrest Library for residents to view and ask questions. These landscapes are intended to benefit nearby residents and community input is essential to their long-term success, Davis Johnson said.
"Libraries are great community spaces to engage residents," said Roots Down Founder and CEO Jamie Rosenthal. "As a former farmer and educator, this project really brings both of my passions together. We are grateful for Commissioner Davis Johnson's visionary leadership and look forward to installing more Productive Urban Landscapes across DeKalb County as part of the Fruitful Communities initiative."
Partners for the Fruitful Communities initiative include UGA Extension, DeKalb County Parks & Recreation, Concrete Jungle, Wholesome Wave Georgia, ServeScape, CompostNow, Grow With The Flow LLC, Georgia Audubon Society, and EcoLogic, as well as Commissioner Davis Johnson.
For more information, visit www.commissionermeredajohnson.com