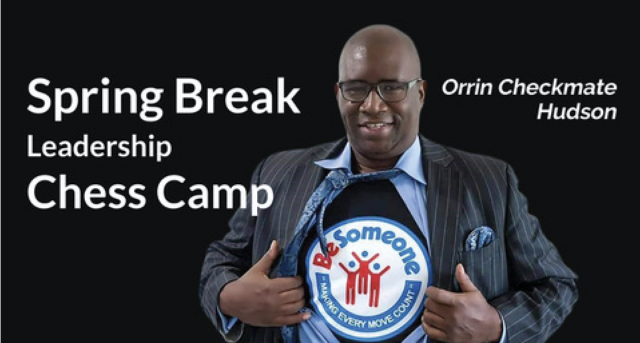 STONE MOUNTAIN, GA  — Orrin "Checkmate" Hudson, "Master Motivator Teacher and Mentor,", will hold his annual Spring Break Leadership Chess Camp April 4-8 in Stone Mountain, Georgia. The five-day leadership camp will be from 9 a.m. to noon. with early drop-off and late pickup available.
Hudson will use his signature chess skills and abilities as he offers information, insight and advice on the importance of making every move in life count.
Hudson has trained more than 88,000 students and his goal is to reach 1 million youngsters as he continues to train new teachers/motivators to spread the positive life lessons learned through the game of chess.
Hudson is a believer in the pay-it-forward concept.
"I was a young know-it-all teenager in Alabama and I was on the road to certain destruction and possibly even a premature death,"  Hudson readily admits. "But I had a teacher who saw potential in me, I'm not sure what that was, but he taught me the game of chess."
Hudson is quick to say that seemingly simple act "saved my life."
"By using the game of chess, my teacher showed me that for every move I make on the chess board there are consequences," he adds. "I not only learned how to play chess but I also gained self-esteem and realized I could be someone if only I chose the right moves in my life."
Hudson went on to serve as an Alabama State Trooper but later realized his true calling.
"I knew I had to give back. I saw too many young African American males headed down the wrong path – gangs, drugs, crime, sexual irresponsibility, no education and focus -, the same path I was on until someone cared enough to set me straight," Hudson said.
The Spring Break Chess Camp will be held April 4-8 at the Be Someone Academy, 949 Stephenson Road, Stone Mountain. For more information, call
770-465-6445.